Apr 7, 2016
ຜົນການຈັດອັນດັບໃນເດືອນເມສາ 2016
ປະເພດທີມບານເຕະຊາຍຂອງຟີຟາ ປະກົດວ່າ
ອາເຈັນຕີນາຂື້ນມາຄອງອັນດັບໜຶ່ງແທນເບລຍຽມແລະທີສາມແມ່ນຊີລີ.
ສ່ວນທີມຊາດລາວຕົກໄປເປັນອັນດັບທີ 182 ຂອງໂລກ ແລະເປັນອັນດັບ 39 ຂອງອາຊີຮ່ວມກັນກັບກຳປູເຈ້ຍ ແຕ່ຫຼື່ນທີມອິນໂດເນເຊຍແລະບຣູໄນ ສຳລັບເຂດອາຊີຕາເວັນອອກສ່ຽງໃຕ້.
ແຫລ່ງ FIFA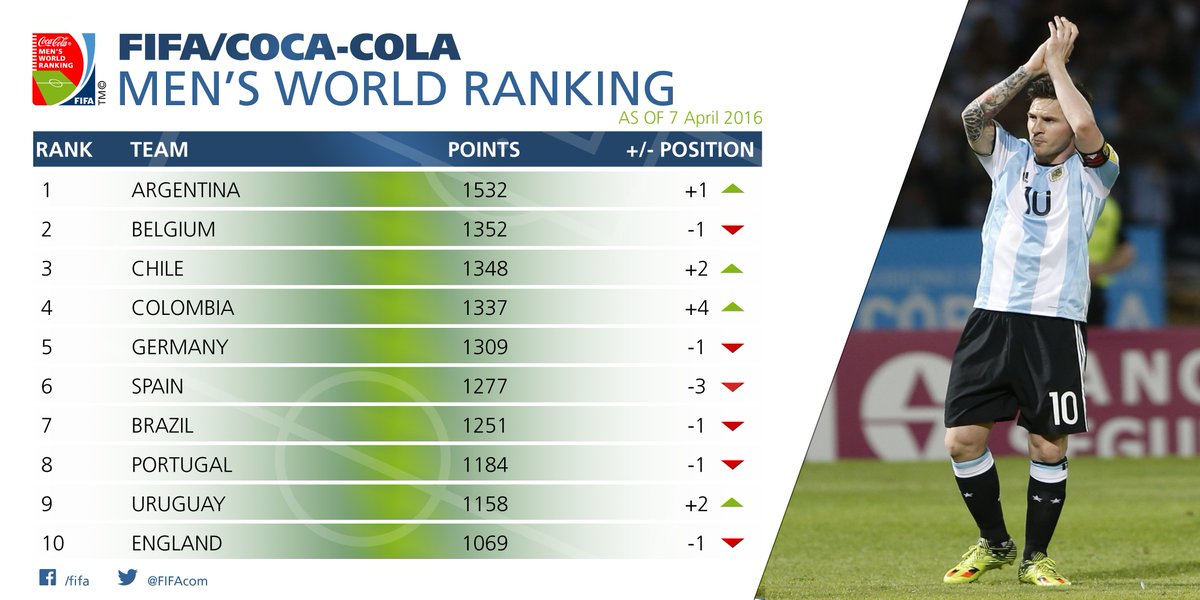 http://www.fifa.com/fifa-world-ranking/ranking-table/men/afc.html
Apr 5, 2016
Apr 3, 2016
Mar 31, 2016
Blogs+Previous articles

Hot topic
Laos U14 http://www.the-afc.com/en/afc-u14-championship-2013-schedule-results.html News on  Match http://www.the-afc.com/en/tou...

อินทรีอันดามัน'' กระบี่ เอฟซี ฤดูกาลที่ผ่านมาถือว่าเป็นทีมน้องใหม่ที่สร้างสีสันไม่น้อย เพราะมีผลงานที่ยอดเยี่ยมจบเลกแรกขยับขึ้นไป...

According to the report from Thairath, Laos scored first goal at 10th mn of the first half game. after the end of first half, Laos lead...

According to Lao premier League facebook page, Laos U13 took 3rd place at the  Thailand invistation u-13   which totally 8 teams fro...

Vietnam vs Laos  at 20:30, Men's Football  ( 4 June 2015) 28th SEA GAMES 2015 ຫວຽດນາມ ພົບ ລາວ ເວລາ 20:30 ເບິ່ງຖ່າຍທອດສົດຜ່ານ ...

ຕາຕະລາງແຂ່ງຂັນບານໂລກ 2018 ຮອບຄັດເລືອກທະວີບອາຊີ ສຳລັບທີມຊາດລາວຊຸດບານໂລກ   On 3rd September 2015 Korea Republic Vs Laos      time: 20:...

 Men''s Football of  16TH ASEAN UNIVERSITY GAMES THE FINAL MATCH, HOST LAOS VS THAILAND AT LAK 16, NATIONAL STADIUM TODAY ...

Laos football statistics at AFF suzuki cup 2008 Lao National football team at AFF suzuki cup 2008, Thailand Laos vs Malaysia at SUZUK...

Laos becomes the special Guest for International  Swiss cup U16 from 25-28 July 2013 http://www.swissu16.com/web/index.php/en/tourn...