Apr 7, 2016
ຜົນການຈັດອັນດັບໃນເດືອນເມສາ 2016
ປະເພດທີມບານເຕະຊາຍຂອງຟີຟາ ປະກົດວ່າ
ອາເຈັນຕີນາຂື້ນມາຄອງອັນດັບໜຶ່ງແທນເບລຍຽມແລະທີສາມແມ່ນຊີລີ.
ສ່ວນທີມຊາດລາວຕົກໄປເປັນອັນດັບທີ 182 ຂອງໂລກ ແລະເປັນອັນດັບ 39 ຂອງອາຊີຮ່ວມກັນກັບກຳປູເຈ້ຍ ແຕ່ຫຼື່ນທີມອິນໂດເນເຊຍແລະບຣູໄນ ສຳລັບເຂດອາຊີຕາເວັນອອກສ່ຽງໃຕ້.
ແຫລ່ງ FIFA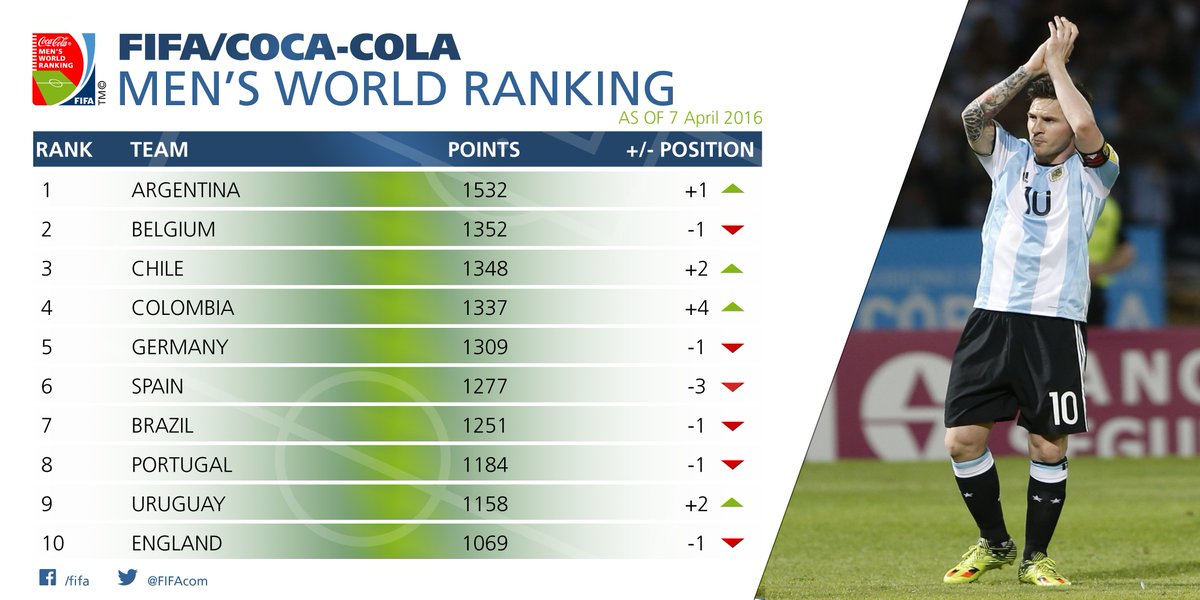 http://www.fifa.com/fifa-world-ranking/ranking-table/men/afc.html

ແຟນບານຄິດວ່າ ປະຕູໃດງາມທີ່ສຸດ ລາວພຣີເມຍລີກ 2016 ອາທິດທີ 2 ລະຫວ່າງ ຂວັນຕາ ສີວົງທອງ ທີ່ຍິງປະຕູໄດ້ໃນນັດລາວໂຕໂຢຕ້າ ຊະນະ ໄຟຟ້າລາວ 4-0 ແລະ ຄຳແພງ ທີ່ຍິງປະຕູໄດ້ໃນນັດ ລ້ານຊ້າງ ຢູໄນເຕັດ ຊະນະ ເອສຣາ 9-1ຂໍຂອບໃຈ : ວິດິໂອ ຈາກ TVLAO HD ແລະ LANEXANG LIVESTREAMGoal of the WeekLike ✔ Comment ✔ Share ✔#LPL2016
Posted by Lao Football News ຂ່າວສານບານເຕະລາວ on Wednesday, April 6, 2016
Blogs+Previous articles

Hot topic
ຕາຕະລາງແຂ່ງຂັນບານໂລກ 2018 ຮອບຄັດເລືອກທະວີບອາຊີ ສຳລັບທີມຊາດລາວຊຸດບານໂລກ   On 3rd September 2015 Korea Republic Vs Laos      time: 20:...

ຜົນການແຂ່ງຂັນວານນີ້ຂອງສາຍ ອີ ຜົນການແຂ່ງຂັນອອກມາບໍ່ຄືດັ່ງຫລາຍຄົນຄາດໄວ້ກ່ອນ 17/6/2018 -ໂຄສະຕາຣີກາ ພົບ ເຊີເບຍ 0:1 -ເຢຍລະມັນ ພົບ ແມັກຊີໂກ 0...

AFF Suzuki Cup 2018 will kick off on 1 Sept (qualification round) This is a complete draw for this tournament.

Results: 1/7/2018 Indonesia vs Laos (1:0) 3/7/2018  Thailand vs Laos (3:0) 5/7/2018  Laos vs Vietnam (1:4) 7/7/2018  Singapore vs...

Post here ອາດີດຜູ້ຫລິ້ນທີມຊາດອາເຈັນຕີນາ Veron ໃຫ້ຄຳເຫັນສຳລັບ ຜົນງານຂອງ ເມຊີ ໃນບານໂລກ ທີ່ລັດເຊຍ Veron, ທີ່ຫາກໍເລີກເຕະບານໃນປີ 2017 ດ້ວຍໄ...

Laos football statistics at AFF suzuki cup 2008 Lao National football team at AFF suzuki cup 2008, Thailand Laos vs Malaysia at SUZUK...