Jul 15, 2012
Brunei is set to return to South-East Asia's biennial tournament after a four-year absence due to sanctions from Fifa.
The 2012 AFF Cup will be the first tournament for the Wasps since their last international appearance in the 2010 AFC Challenge Cup qualifiers in Sri Lanka.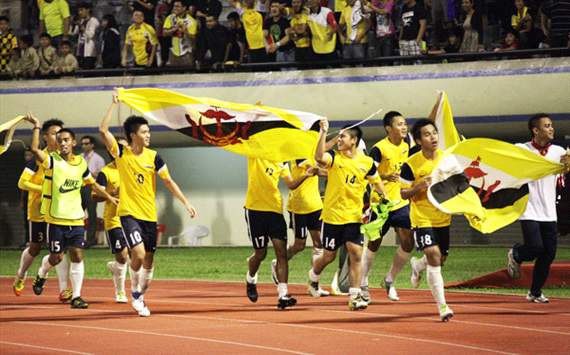 Blogs+Previous articles

Hot topic
ພິທີ​ລົງ​ນາມ​ສັນຍາ​ການ​ຮ່ວມ​ມື ຖ່າຍ​ທອດ​ສົດ​ການ​ແຂ່ງຂັນ​ເຕະບານ​ຢູ​ຟາ​ແຊັມ​ປຽນ​ລີກ (UEFA Champions Leagues) ແລະ ຢູ​ຟາ​ເອີ​ຣົບ​ປາ​ລີກ (UEFA ...

Laos football statistics at AFF suzuki cup 2008 Lao National football team at AFF suzuki cup 2008, Thailand Laos vs Malaysia at SUZUK...

AFF U23 Sea Gaames Myanmar 2013: Mens football Grup A Malaysia, Singapore, Vietnam, Brunei Darussalam, Laos, Philippines Group B : M...

ທິມຊາດລາວອາຍຸບໍ່ເກີນ23 ນັດທຳອິດໃນມື້ນີ້ ນາທີທຳອິດກໍໂຊສິລະປະມວຍລາຍລາວຂອງສາຍຊົນເຕະເຂົ້າທອ້ງຂອງຜູ້ຫລິ້ນສິງກະໂປ ກຳມະການຊາວຈິນບໍ່ໄດ້ຫລາຍ...

In their final match of the 2012 VFF Cup, Laos ended the tournament without a win after falling 2-4 to Turkmenistan. Thim Xad  had hoped to...

Kuala Lumpur, July 15 (IANS) Thailand defended their title as they came from behind to beat Malaysia Yellow 2-1 in the final of the 4th e...

VIENTIANE (20 May 2013) –  A total of 24 teams will be taking part in the First LFF (Lao Football Federation) Presidential Futsal Champio...