Jul 15, 2012
Brunei is set to return to South-East Asia's biennial tournament after a four-year absence due to sanctions from Fifa.
The 2012 AFF Cup will be the first tournament for the Wasps since their last international appearance in the 2010 AFC Challenge Cup qualifiers in Sri Lanka.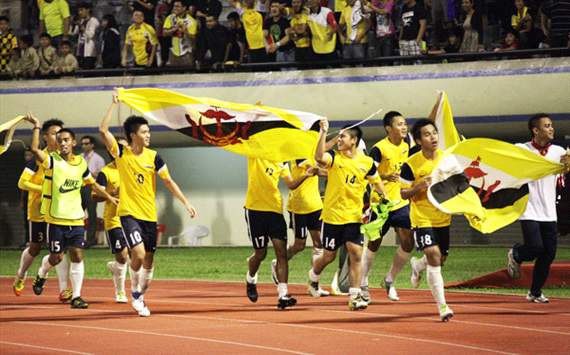 Blogs+Previous articles

Hot topic
ຕາຕະລາງແຂ່ງຂັນບານໂລກ 2018 ຮອບຄັດເລືອກທະວີບອາຊີ ສຳລັບທີມຊາດລາວຊຸດບານໂລກ   On 3rd September 2015 Korea Republic Vs Laos      time: 20:...

ຜົນການແຂ່ງຂັນວານນີ້ຂອງສາຍ ອີ ຜົນການແຂ່ງຂັນອອກມາບໍ່ຄືດັ່ງຫລາຍຄົນຄາດໄວ້ກ່ອນ 17/6/2018 -ໂຄສະຕາຣີກາ ພົບ ເຊີເບຍ 0:1 -ເຢຍລະມັນ ພົບ ແມັກຊີໂກ 0...

AFF Suzuki Cup 2018 will kick off on 1 Sept (qualification round) This is a complete draw for this tournament.

Post here ອາດີດຜູ້ຫລິ້ນທີມຊາດອາເຈັນຕີນາ Veron ໃຫ້ຄຳເຫັນສຳລັບ ຜົນງານຂອງ ເມຊີ ໃນບານໂລກ ທີ່ລັດເຊຍ Veron, ທີ່ຫາກໍເລີກເຕະບານໃນປີ 2017 ດ້ວຍໄ...

Results: 1/7/2018 Indonesia vs Laos (1:0) 3/7/2018  Thailand vs Laos (3:0) 5/7/2018  Laos vs Vietnam (1:4) 7/7/2018  Singapore vs...

Laos football statistics at AFF suzuki cup 2008 Lao National football team at AFF suzuki cup 2008, Thailand Laos vs Malaysia at SUZUK...