Jul 15, 2012
Brunei is set to return to South-East Asia's biennial tournament after a four-year absence due to sanctions from Fifa.
The 2012 AFF Cup will be the first tournament for the Wasps since their last international appearance in the 2010 AFC Challenge Cup qualifiers in Sri Lanka.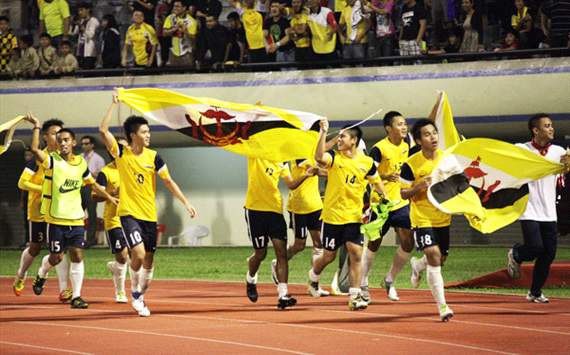 Blogs+Previous articles

Hot topic
Blatter asked to intervene 'urgently' in AFC row 9 hours ago SINGAPORE (AFP) — Five Asian football associations have called on FIF...

Laos National Team ,Seagame 2009 (photo) Laos team's rank has dropped to 175th on April 2012,the rank was in 173 th last month ( ...

(Vientiane mai )   Lao football federation and S.T group opens the M150 Cup ( the energy  of hearth to fight against the drug ) on 7 M...

อินทรีอันดามัน'' กระบี่ เอฟซี ฤดูกาลที่ผ่านมาถือว่าเป็นทีมน้องใหม่ที่สร้างสีสันไม่น้อย เพราะมีผลงานที่ยอดเยี่ยมจบเลกแรกขยับขึ้นไป...

Laos football statistics at AFF suzuki cup 2008 Lao National football team at AFF suzuki cup 2008, Thailand Laos vs Malaysia at SUZUK...

ພິທີ​ລົງ​ນາມ​ສັນຍາ​ການ​ຮ່ວມ​ມື ຖ່າຍ​ທອດ​ສົດ​ການ​ແຂ່ງຂັນ​ເຕະບານ​ຢູ​ຟາ​ແຊັມ​ປຽນ​ລີກ (UEFA Champions Leagues) ແລະ ຢູ​ຟາ​ເອີ​ຣົບ​ປາ​ລີກ (UEFA ...

Malaysia plans to play against the big club of England in July 24 and July 30 and then Austria or Hungary http://www.aseanfootball.org/?p=...

Vietnam, Indonesia to co-host 2010 regional football cup The Asean Football Federation (AFF) on April 20 selected Vietnam and Indonesia to...

ຕາຕະລາງແຂ່ງຂັນບານໂລກ 2018 ຮອບຄັດເລືອກທະວີບອາຊີ ສຳລັບທີມຊາດລາວຊຸດບານໂລກ   On 3rd September 2015 Korea Republic Vs Laos      time: 20:...

YANGON (16 Sept 2011) –  Vietnam confirmed their win of Group B of the AFF Under-19 Championship 2011 with a 4-0 demolition of Laos at the ...