Dilemma – the National team or the U-22 which will take part
A football team to participate at the Palestine International
By Naushad Amit
The Sri Lanka national football squad is making final touches before embarking on a 11-day tour to Palestine on May 12 (Saturday) on a mission that is quite impossible at contest level but will have scope for the future.
Last week the Sri Lanka footballers after training for almost 10 weeks visited Malaysia to play a couple of friendly games, prior to the Palestinian job, but the outcomes of these games were bigger than expected. Sri Lankan football followers maybe were awe when a full strength Malaysian team led the Islanders to a 6-nil thrashing but the national coach, Sampath Perera, had different yet positive views from the local lads' 90-minute struggle on the field.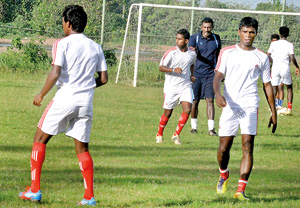 The Sri Lanka football squad is training presently at the Baddegana Football Complex prior to the Palestinian tour. But FFSL officials are undecided on the team. (Pic by Ranjith Perera)

"As a team we only had two months and two weeks to prepare for the Malaysian game. All these days we have been mainly focusing on maintaining the fitness level of players before our first international outing in almost 10 months. Eventually it was a bad loss but the final score does not depict the whole picture. It was a learning process for the boys and there were many positives that we could pick up as a team and as coach I was able to spot many loopholes that need a quick fix," Perera told the Sunday Times.
Sri Lanka last played an international against the Philippines and lost the two-match 2014 World Cup qualifier by an aggregate of 5-1 after recording a thrilling 1-all draw against the mighty Azkals in Colombo on June 29, 2011. In the return game on July 4 held in Manila was a totally different story where Sri Lanka was outsmarted by 4-0 on a perfect pitch. In Malaysia too Sri Lanka played on a velvet-like smooth pitch at the Shah Alam Stadium in Selengor, a venue where even the strong Manchester United have performed. The aspect of playing on perfect pitches in the overseas has been one of the mysterious facts that Sri Lanka has failed to deal with. But lack of proper strategy and management has been in the forefront even during Sri Lanka was coached by foreign nationals.
"We got the opportunity to play on a pitch that measured 120x80 metres, which is the specified playing field size for an international. In addition the condition of the pitch was overwhelming. This fact was something that can affect a team's speed and consistency but we have not been looking seriously into. Apart from it the Malaysians have been fully occupied throughout the year with international assignments whereas Sri Lanka played together in many moons. Facilities were another area we had to compare between the two teams though it was a friendly or a practice fixture.
Other than that I reckon we played to our potential as a team and whatever mistakes we committed were due to individual mishaps, which eventually comes under the team's account. We are working hard on these before our next international competition in almost 10 months which begins next week," Perera stated.
Sri Lanka is one of the international teams participating in the Al-Nakba Football Tournament in Palestine which begins on May 13 and run until 24. The local lads will get the opportunity of facing some of the hot contenders in international football viz. Jordan, Iraq, Tunisia, Indonesia, Pakistan and Vietnam. However the Football Federation of Sri Lanka (FFSL) is undecided yet on the team that they will send for this tournament which is an open category.
The Chief Executive Officer of FFSL, Crishantha Perera was awaiting a report from the national team management to discuss matters before selecting the team that will play in Palestine. The CEO told Sunday Times that it could be the main team or the Under-22 team that will take wing to the Middle East, but a final decision on the team is due on May 9.
"I cannot say anything on this matter. We sent our national squad for training and some practice games in Malaysia, where we thought our footballers could gain some international exposure. But we are yet to receive a report from the team management on the tour which will be the key in selecting the team for the tournament in Palestine," he said.
But according to Coach Perera who expects a mixed team, the report has been already submitted last Tuesday (2) and he was expecting to meet the hierarchy of FFSL to select the touring squad by today (Sunday). His expectation was to see Sri Lanka field a mix of young players from the Under-22 side and the senior side and give them all some spotlight at a competitive tournament before they go on their separate ways representing the country in months to come. Knowing that fact that football giants in the ranks of Jordan, Iraq, Tunisia and Vietnam too will compete alongside Sri Lanka in next week's event, Perera was hoping of knocking two birds from a single stone.
"I personally know that there's very little Sri Lanka can do as a team against some of the top international teams. Our Under-22 side will take part in the Asian Football Confederation (AFC) U-22 Championship qualifiers later in June again in the Middle East. And the national side will participate in the South Asian Games early next year. With very little international activities on cards I think we should take the forthcoming tournament as a golden opportunity to give experience to our players," he added.
This was a policy adopted by Sri Lanka during the Malaysian tour of exposure which also included a blend of promising youngsters who played for the first time and seniors, who were out of action for as long as two years due to various reasons. Perera said he made use of the Malaysian outing to even scrutinize the players' performances on individual basis. According to him even some of the seniors who underperformed are to be axed and replaced with potential youngsters.
"One of the main setbacks the national stream is faced today is the lack of a proper club structure that can secure the talents of good players. Our club system fails our players in many ways and its affects are felt very gravely at the national level. This has to change drastically if Sri Lanka is to go for wins at international level and this is a very good juncture to make a viable beginning," Coach Perera emphasized.