"I know City want to speak to my agents at the end of the season for a new contract, but I am relaxed," Silva told
Goal.com
.
"I have two years still left and I am happy here. I have progressed as a player since leaving Valencia and I am fighting to win titles. That was my aim when I left La Liga."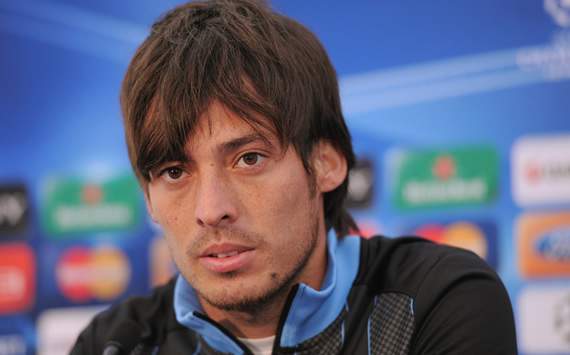 David Silva
ຂອ້ຍຮູ້ວ່າສະໂມສອນຂອງແມນ ຊີຕີ
ຕອ້ງການລົມກັບຕົວແທນຂອງຂອ້ຍໃນທ້າຍລະດູການກຽ່ວກັບສັນຍາໃໝ່ ,ແຕ່ຂອ້ຍສະບາຍສະບາຍ ບໍ່ກັງວົນ ເດວິ ຊີລວາ ບອກ ໂກເວັບໄວ
ຂອ້ຍຍັງມີສັນຍາສອງປີແລະດີໃຈທີ່ຫລີ້ນຢູ່ນີ້, ຂອ້ຍມີຄວາມກ້າວໜ້າຫລັງຈາກຍ້າຍຈາກສະໂມສອນ ວາເລັນເຊຍແລະດຽວນີ້ກຳລັງສູ້ສຸດໆເພື່ອນຳທີມຊີຕີສູ່ຈຸດສູງສຸດ, ນັ້ນແມ່ນຈຸດປະສົງຂອງຂອ້ຍໃນເວລາຍ້າຍຈາກສເປນລີກກາ.